On March 30th, our team of 24 loaded up the cars and headed down to the Navajo reservation for our third annual trip to Immanuel Mission (ImmanuelMission.org). Your generous gift made this possible so we wanted to say thank you and share some stories from our time.
We were able to distribute 45 Easter food baskets for elderly Navajo shut-ins and give them an invitation to church. Our work crews built a horse and sheep corral for an elderly couple, installed 400' of much-needed fence on the mission and completed a French drain and retaining wall for one of the buildings on the mission. Our teens also made a gourmet steak dinner for about 50 of the school and mission workers the staff appreciation evening, complete with some fun dancing afterward! On Sunday, we served a meal to the locals after church and played some fun games with them as well.
One of the highlights of the trip was hearing from some dear Navajo friends, who Scott and Andie met in college at Ft. Lewis years ago. For the past 25 years, Dino and Nanette have been faithfully serving on the reservation and they came to share their testimony and lead a discussion on the cultural differences between the Navajo and us. Many in our team also got close to an older woman named Ada (pictured with Andie below) who grew up near Immanuel Mission. She shared the story of her being sent to a boarding school when she was only 6 where they cut off all her hair and forbade her from speaking in Navajo in order to produce 'cultural assimilation'. I had just finished reading the book This Tender Land by William Kent Krueger which tells the story of the Native American boarding schools so her life story came alive as she shared! I highly recommend that book if you want to see history through the eyes of a native child. It is so good for all of us to enter into another culture, learn from them, and serve them.
The final highlight of the trip was an abandoned litter of 7 adorable puppies that one of the work crews found out in the field while on their project. Packs of abandoned dogs who go feral are a big problem to the school there as they become aggressive to the school children and need to be put down. So we agreed, to the great rejoicing of all the kids, to bring them back to Denver and they all got adopted! It was a fun way to end a great trip!
We're kicking off Parent Book Clubs in February! We will be hosting them at school on Wednesday mornings from 8:30-10:00am, every other week. Each book will be broken down into 5 sections to read and to gather at school to discuss.
We are offering two different titles. Book Clubs are optional and you are welcome to participate in whichever one you'd like or both. If you decide to do both books, you'll attend alternating discussions every Wednesday morning.
Book #1: The Age of Opportunity: A Biblical Guide to Parenting Teens by Paul David Tripp
Age of Opportunity: A Biblical Guide to Parenting Teens https://a.co/d/hw9tHVO
Book #2: Smart But Scattered: The Revolutionary "Executive Skills" Approach to Helping Kids Reach Their Potential
Smart but Scattered: The Revolutionary "Executive Skills" Approach to Helping Kids Reach Their Potential https://a.co/d/d2MX8zc
Schedule:
Age of Opportunity—
Feb 8
Mar 1, 15, 29
Apr 19
Smart but Scattered—
Feb 1
Mar 8, 22
Apr 12, 26
Do you want to know what high school looks like at Journey Academy? Watch the video below! It will be helpful for those with older learners but also for those with younger heroes to show you what is in store for them.
Today we had a Graduation Badge Workshop with all of our high school heroes in the afternoon.  Each learner was given a Graduation Badge Worksheet to plan out their learning path.  Some of the responded with excitement, accepting the challenge!  Others went straight into their panic zone, instantly overwhelmed with the thought of planning their own future.  I created this video to show parents the process learners will use to plan out their high school years.  I hope it helps guide your conversations with your learner. 
On caveat, I mentioned this to the heroes but I wanted to mention it to you as well. We will give a lot of grace to our current juniors and seniors since this plan was not in effect from the beginning for them. We created a graduation requirement appeal process that any learner can use to explain if and how they think the requirements should be adjusted for them based on their learning and life goals. We fully expect our juniors and seniors to use that process.
It was wonderful to see the studios full of smiles and life again as we all came back together from Christmas break! As I walked the halls, I snapped a few pictures and saw Sparks gearing up to go outside and play in the snow just as the high schoolers were all coming upstairs to have their check-in meetings with Disco heroes who are embarking on independent Passion Projects this session. Mentoring and servant leadership are high priorities at Journey so we often challenge the older studios to step into that role with the younger ones. As I was watching it all, I thought about this habit we have of referring to our students as 'heroes'…
Why are we so intentional about this and why is it such a point of emphasis? It's an important question, and the answer cuts to the heart of all that happens here at Journey Academy.
Our children are not empty vessels waiting to be filled or a blank slate waiting to be written upon. Nor are they just a grade in a grade book, where the learning that takes place has little relevance to their process of becoming.
No, they are brimming with potential, endowed with a unique constellation of passions, gifts, and interests, eager to be co-creators and participants, and capable of more than we could ever imagine. The call to the heroic is the call to adventure, to a journey that will stretch you farther than you thought possible, where you will uncover your truest, most authentic self and find out who you were created to be — to discover a burning passion, your deepest gladness, and to painstakingly pursue it with all that you have, all that you are.
Admittedly, many of our young heroes have yet to fully adopt this identity for themselves, and doubt sometimes lingers in the studio. Indeed, recognizing yourself as the hero of your own story takes some time. But make no mistake, the heroic spirit is alive and well, and we see examples of it each day in the studio: an exclamation of "I can do it!" about something previously avoided, the bravery to jump into a challenging activity, the resolve to try a new approach when previous attempts have failed, or the courage to respectfully confront another learner about an issue. This is the stuff of heroes, and within a community of growth-minded young people, it is being fortified into their souls each day.
So each time we refer to them as heroes, we aren't indulging them, stroking their ego, or engaging in a cutesy language game. We are calling forth their truest selves and beckoning them onward in their journey to find a calling and change the world for Christ.
Want to hear some very exciting news? Are you curious about Journey Academy's future plans? Then check out this year-end pitch deck that we created for some investors that believe in the vision and future plans of Journey. Building a school was always Phase One and now that that is accomplished, we are ready to move on to Phases Two and Three. Click here to look over the slides below to see what those are and maybe even consider a donation to make these ministries possible!
Ps – Also notice our new logo designed by our very own Jason Rapert!
Thank you to everyone who came out for our fabulous Red Carpet Film Premiere in December! There were so many truly incredible films presented, well done Journey Academy middle and high schoolers! Here are a few highlights from the evening, enjoy!
Wouldn't you love to be a fly on the wall in your learner's studio?
Things at Journey have been humming along lately, and we seem to be settling into a healthy rhythm. As I've been observing this, I've found myself reflecting on an important principle that I think is worth exploring at this point in the year. In short, an orderly studio is NOT the goal.
Coming to this realization has been something of a process for me, one that has required me to unlearn the many strategies of classroom management, all of which were focused on coercing children to sit quietly at their desks and do what adults wanted them to do.
And, indeed, there is something seemingly right about walking into a classroom with students docilely sitting in rows, quietly hunched over worksheets. It speaks of discipline, respect, and authority.
As tidy as this vision may be, it has some serious limitations.
Most importantly, and the key thing I want you to take away from this, is that an orderly studio is not the goal; it is the outcome. It is the outcome of a studio that has developed effective systems of self-governance and self-management, where the learners have the agency, tools, and maturity to function independently, no longer reliant on adult behavior management techniques that wield fear and control as their primary weapons.
To say it more bluntly, our goal at Journey Academy is not to coerce your children into doing what we want; it's to empower them to create a civil society among themselves with clear processes and systems of accountability that allow them to do the important work they have to do without unnecessary micromanagement from adults. Our vision of an ideal learning environment looks less like a classroom and more like Google's corporate headquarters, buzzing with activity and alive with autonomous, independent, important work.
To be clear, this is still a work in progress. I would be remiss if I didn't point out that sometimes a little friction, and even chaos, is necessary for the tribe to recognize what they don't want to be and for leaders to emerge and call their peers to a higher standard. In fact, this friction is a signal that transformation is happening and is not to be feared.
So don't be alarmed if you hear such tales from your young hero. As you do, my encouragement for you is to recognize this for what it is: the messy process of developing leadership, self-awareness, and social skills in our young heroes that are rare among even the highest-functioning adults. I can assure you that such skills won't be developed while sitting in rows dutifully reproducing mandated worksheets; nor will they be found in those who've had adults swoop in to the rescue at the first sign of distress (often to assuage their own anxieties). No, they will be built in the messiness of daily life in the studio, navigating situations, working through friction, and coming out the other side with a greater sense of self, both as an individual and as a member of a larger community. This very thing is happening every day at Journey Academy and it is beautiful to see.
It's not for the faint of heart…but a hero's journey never is.
Ps – I took a short walk through the school this afternoon and snapped a bunch of pictures to get an idea of what a day in the life of Journey looks like. Feel free to show these pictures to your learner and ask them to tell you about the meaningful work they did this week!
What do minimum requirements look like when there is a break in the school schedule? 
As you know, the four upper studios (Disco, Adventure, Navigators, and LP) all have weekly minimum requirements in math and Lexia.  Each Monday morning, heroes gather in their accountability squads to show proof of work and to hold one another accountable (mostly using the hero buck system) if the minimums were not met.  This can cause some confusion when there is a week break so many ask if there are still weekly minimum requirements over break.  The answer is yes, there are still requirements and accountability meetings the Monday we return from break but they are only expected to do the math and Lexia amounts from the week school was in session, not for the week we are on break.  So they basically have two weeks to get one week's worth of work done. So, for example, for the Thanksgiving break in 2022 they had from Monday, 11/14 – Monday 11/28 to get one week's worth of math lessons and Lexia units done.
I saw a chart on the Acton forum recently that I wanted to share with you all. Sometimes we tend to bifurcate our kids growth – meaning we divide their personhood into parts such as academic progress vs whole child development. While we really love seeing academic progress at Journey (and we see a lot of it! ), we have made a promise to you as parents to treat each learner as a whole, integrated person. This means we will never separate the intellectual development of a child from the spiritual/soul development of a child. Their soul development often comes through the "Learning to Be" category. Please take a few minutes to look at the chart below and think through your hero's growth as a whole. Which of these categories do you see improving this year? Which needs more growth? How can you support and coach them as they grow in these areas?
What do I do when my learner faces a problem or conflict at school and comes home upset?
It only takes a couple of weeks in community for some type of conflict to occur. Most likely you have heard a complaint from your hero of some type of injustice or offense at school. Maybe it was a hero buck fine they feel was undeserved, maybe it was a mean action on the playground, or maybe it was something a guide did that the learner feels was unfair. Learners come home and retell you the scenario and you as a parent feel unsure of how to respond. You don't want to jump into the drama triangle and you don't want to break the Parent Contract so you feel frozen in indecision. We want to put tools, information, and questions into your hands as parents so you feel equipped to coach your child through these inevitable conflicts.
There are four resources available to your learner that we want you to know about so you can present them and empower your learner to decide how to handle these difficult situations. Each one is designed to bring heroes out of a victim mindset and put them in a creator mindset where they feel they have a voice and can confront injustice or broken promises that are hurting the tribe.
1) Town Hall Slips (pictured below in yellow) – These are slips all heroes and guides can fill out to bring a situation before Town Council.
2) Judicial Request Forms (pictured below in white) – These are requests for adjudication in a situation where perceived injustice may have occurred or a contract was believed to be broken.
3) Peace Tables – This is a formally requested conversation where a mediator (usually a guide or older hero) is present so that two parties can work through a conflict.
4) Courageous Conversation – This is a less formal conversation between two people following the exact steps to the Recipe for a Courageous Conversation (pictured below)
Look over each of these resources and make yourself super familiar with them. Consider walking through each of the steps to a Courageous Conversation and help them take notes on each step to prepare what they want to share. The next time your learner comes home upset, walk them through each of these tools and ask them which tool they think they need to use to solve this problem. You may even want to read this post to them and show them the picture as you talk through the situation. By responding this way, you will be empowering your learner with the tools and voice that they will bring into every relationship and community they interact with in the future… and maybe even use a few of these tools yourself the next time you are facing a difficult relational conflict!
PART TWO
Why a Learner-Driven School is a Long Term Investment in Your Child…
If you haven't read my first article titled 'How Not Answering Questions Builds a Learner-Driven Environment', you might want to do that first. In that piece, I established the characteristics of a learner-driven school and the results produced in this unique educational method. Learners gain the self confidence, initiative, and resourcefulness to resist a victim mindset and take charge not only of their own learning experience, but their whole life. If you pay attention for even a few minutes to our typical American culture, you can see that a victim mindset appears to have taken over large parts of society, not just among teen agers but politicians, celebrities, educators, and even parents. The Karpman Drama Triangle perfectly describes the anti-symbiotic connection between the three roles of victim, rescuer, and persecutor. The majority of our culture today has decided to camp out on the inside of this drama triangle and those suffering the most are the children, who watch and learn how to interact with the society around them.
A learner-driven school exists to combat this victim mindset by seeking to empower young people to take the lessons learned from taking charge of their own education and then transferring those lessons to every other pursuit in their life from friendships, to personal development goals, to self care. But these lessons are not learned over night. They are hard fought over weeks, months, and even years in the hearts and minds of both ourselves and our children.
There are countless opportunities for a student in a learner-driven school to react with defeatism and irritation towards an adult who won't solve a problem for them. From mom not packing the right food for lunch, to the coach who makes the players stay in their circle of responsibility, to a guide who refuses to spoon feed answers to legitimate questions, it is all a part of a big picture plan to invest in the long term growth, development, and confidence of our learners. Obstacles and roadblocks are inevitable in every area of life and empowering our children to know how to overcome may be one of the greatest gifts we can offer as parents and guides. Knowing that we trust them to make good use of the countless resources and answers available to them grows a level of personal responsibility that will truly allow them to grow in emotional and intellectual intelligence. But it takes time, sometimes a lot of time. And sometimes, it gets worse before it gets better. A victim mindset can be akin to a fire breathing dragon in the heart and mind of a learner. And when the tail of the dragon is cut off, sometimes the dragon fights all the harder before it finally gives in. In a learner, this may look like a short-term academic backslide. It may manifest as an apathetic or even aggressive response to obstacles in math, language, or even friendship conflict. The learner who continually forgets what 8 times 7 is or how to spell 'throughout' and wants a parent or guide to give a quick answer may express great irritation when the adult requires them to find the answer themselves. But later, that same learner will develop strategies and methods to overcome any type of obstacle, without an adult stepping in to rescue.
Apathetic indifference, resistance, mediocre excuses, distractions, victimhood, and castigation of blame are some of the charisterics that will absolutely sabotage not only academic success, but any form of social, emotional, and practical success in the life of any learner. These weeds take time to root out and a learner-driven environment is perfectly designed to do that, as long as the adults involved are willing to stay the course and patiently let the process do its job. What may appear to be a loss of control over the learning process is actually a gain of control and personal responsibility in the life of the learner.
Simply telling the learners what they need to know and how to do it feels more comfortable because it is closer to our own learning experience, but is that what is truly best? There is a God-given, internal drive in every human to want to grow, develop, and thrive. But our systems can snuff that out so quickly that it appears to have never existed. A wise practicing of a learner-driven educational method may take time but it is the quickest way I have found to fostering the grit and resilience every learner needs to resist a victim mindset, embrace a creator mindset and find a calling that will change the world. Is it worth the struggle? Is it worth the wait?
PART ONE
How Not Answering Questions Builds A Learner-Driven Community…
Charts are hanging on the door of each multi-age studio. The annual, 'Guides Don't Answer Questions' game has begun and learners are encouraged to write down on the wall chart each time a guide slips up and mistankly answers a question. Guides are doing their best to hold the line and wisely respond to each of their eager learners. Students are busily working on completing their core skills and challenges for the week and the guide is quietly watching the energy level of the tribe build as confidence and initiative grows within each of the learners. Little Johnny hits a road block as he considers his work plan for the morning and calls out to his guide, "Hey, how much longer do we have for core skills and when does book club begin today?" Instinctively the guide opens her mouth to satisfy Johnny's curiosity and begins her answer, which is quickly stopped the minute she sees her error, "Um… Johnny, which of the resources available to you would you like to use to find that answer, the schedule on the wall or your squad leader?" Johnny looks back in confusion, processes for a minute, then gets up and walks across the studio to remind himself of the daily schedule so he can manage his time and finish all his tasks before book club begins. Just as the guide is breathing a sigh of relief from passing Johnny's test, little Suzy calls out about a math problem she is struggling with. "Can you help? I hate these kind of problems because I always forget what order the steps are in long division. Can you help me real quick?" The guide pauses, it would only take about 3 seconds to remind her of the 'divide-subtract-multiply-bring down' chant they learned from the math program but she knows better than to offer a quick 'fish' rather than teaching little Suzy how to 'fish' and empower her to not be dependant on an older person to solve her current math dilema. "Suzy, when you hit a road block like this, what helps you more, looking back over the notes you took from that section in your math curriculum, finding a similar problem you solved last week in your math journal, or saving that question for when we do Number Lab together later today?" Suzy thinks through her options and decides to look at a similar problem in her math journal – finding needed information quickly and enjoying her very own ah-ha moment. Relieved, the guide breathes a sigh of relief for her small success in offering choices in response to these two questions that left her learners with the confidence to create solutions to their own problems or setbacks, especially since she knows a guide won;t always be there for them to offer a quick answer.
The scene you just read occurs each and every day in one of the 300 Acton Academy learner-driven schools across the world. To someone who doesn't fully understand the benefits of a learner-driven community, the mantra 'Guides don't answer questions' may seem like a short-sided, misguided sentiment that simply frustrates learners and parents alike and allows guides to be snarky. However, to the owner of an Acton Academy that is working diligently to build a true learner-driven community where every student is trusted to make good decisions, develop resourcefulness and initiative, and become learners for life, the practice of guides not answering questions is truly the life-blood of the culture they are trying to build.
So, all of that begs the question, what even is a learner-driven community and what makes it more efficient than a traditional classroom? I am so glad you asked! I have been an educator for 20 years, the first 18 of my career were spent in a traditional adult/teacher-driven environment focused much more on how teachers teach than on how learners actually learn. As a teacher who cared deeply for my students, I tried nearly every single approach I could to engage my students; project-based methods, discussion-debate methods, lecture methods, collaborative methods. No matter what new teaching style I used, there were always a few learners I simply could not engage and who fell through the cracks. If empowering my students to embrace a lifestyle of deep learning was my goal, I was failing. So I began to search for a new approach. I became very curious about my students and started asking many questions. What engages them most? What are the biggest obstacles to their learning process? What types of environments make them resent learning and what types of environment put them in focused flow? In all of my searching, I came to one conclusion – students know how they learn best and when finally they take responsibility for their own learning process they are unstoppable. Then I began to wonder, what actions do I do as a parent or educator do that hinders them from taking responsibility for their own learning? I found two actions that had the most disempowering effect on my students: forcing them to use methods I thought were best and spoon feeding them answers I thought they needed to know. If you want a recipe for a disengaged, reluctant learner, those two actions are the way to go. But it gets even worse than that in the life of the learner. When they are continually subjected to an adult/teacher driven environment, they begin to quickly adopt a victim-mindset in regard to not only their own learning journey, but towards their whole life journey as well. And that is the last thing any parent or educator wants to feed into the life of their student. Waiting upon an authority in your life to give you basic answers regarding scheduling your day and completing math problems feeds directly into a powerless victim mindset that carries over into your work and social interactions as well. A wise educator helps every student learn that the moment you take full responsibility for every area of both your learning journey and your life, is the moment you have the power to learn or change any area of your life.
So, why is it so important that guides don't answer questions? Because they are building in their learners the self confidence, initiative, and resourcefulness to resist a victim mindset and take charge not only of their own learning experience, but their whole life. Now that is a gift to any student.
Our Sparks will be selling hand-squeezed fresh lemonade at the Youth business fair on Saturday! We are looking forward to a fantastic event!
Here are a few tips on how to help when your child gets stuck or hits a road block in math. Here are a few thoughts on how to help your learner with math while using a Socratic method:
Teaching Math Socratically
The goal of Socratic guiding is to help someone else learn to think more
clearly. In other words, questions and struggles are more important than
Answers.
If your goal is to help someone get the right answer – and particularly to get an
answer more quickly or without struggle – then this is cheating you and the
person you are helping and a violation of the Active Leadership Academy honor code.
How do I know if I'm being non-Socratic?
If you are asking someone to help you take a shortcut in learning, you are
being non-Socratic.
For example: "Can you just check my answer?" is taking a
shortcut – you need to learn to check your own answers.
Likewise, "fill in the blank" questions like: "Can you multiply __ times ___
times ___?" gives someone the answer of how to structure a problem, rather
than forcing them to learn the
Keys to the Socratic Method:
Below are some of the keys to the Socratic Method in math:
No shortcuts. Someone has to do the basic work first.
Ask "Have you watched the videos?" and "What example problems have you tried?" before you sit down to Guide. If the person hasn't done the work, you cannot help them.
Remember that the goal of Socratic question is NOT to help someone get the
right answer. It's to help walk alongside someone, while they learn to think
more clearly and critically.
Good Socratic questions focus on the process of solving a problem or making
choices, never on answers.
Example of Socratic Math Questions
Is the problem being solved simple or complex?
Can you restate the problem in your own words?
What information do you know?
What information are you trying to find out? Why does it matter?
Is it harder to set up the problem correctly or solve it once it is set up?
Are there few or many steps required to solve the problem?
What's the hardest step in setting up the problem?
Do you need to keep track of intermediate answers in an organized way? How
will you do this?
Is your biggest challenge not understanding the process or is it carefully
keeping track of the arithmetic so you don't make any careless mistakes?
Is addition, subtraction, multiplication or division more important?
Do you find this skill particularly hard or easy? Why?
What other math skill does this resemble? Why?
How is this skill similar or different than other skills you've learned? (Be
specific.)
Is this new skill more important in the real world or to help you think more
clearly? Why?
How might you use this in the real world?
What are the next steps you will take to master this problem?
Is there a distraction I can help you remove to solve this?
Are you in the right frame of mind to tackle this problem? If not, what needs
to change?
Should you set a deadline and a time to study for yourself?
Hello – we are the Voorhees and Davidson families and just like many of you, we have high hopes and dreams for the education and discipleship of our kids.  
As we have been doing life together and searching for the best way to educate our children, we stumbled across Acton Academy, a school launched by Laura and Jeff Sandefer in Austin, Texas, and read Laura's book, Courage to Grow.
Laura and Jeff's words spoke to our dreams for our families in a profound and unique way that resonated deeply with our Christian worldview. And we're not the only ones: Their school in Austin has spawned over 160 other affiliates across the globe, but sadly none in Colorado.
Their approach to education is unique. It's exciting. And it has achieved for many other children the three big things we want for our own kids.
We want them to grow in wonder for the things of God.

We want them to grow in community with God and others.

And we want them to grow to serve the world around them by finding their calling.
When we saw that, we knew we had to start an Acton Academy affiliate in our community, and we embarked on that journey in May of 2018.
Journey Academy will launch in the fall of 2019 with a small group of mixed-age elementary students in one learning studio and a small group of middle school students in another learning studio.  We are choosing to start quite small so we can build a strong culture of responsible, curious, and self-governed students that will help lay the foundation for future growth and multiplication. If what you are reading resonates with you, please reach out to us to see if we can link arms on this adventure together.
We are thankful you are here to learn more about Journey Academy, and we hope to get to know you soon! Please come back again and again to this blog to follow us on the grand adventure!
In order to give y'all a taste of what the Journey Academy Heroes are working on (Adventure and Launch Pad), I thought I would issue you a challenge. This could also be a great conversation to have as a family, especially with your Discovery and Sparks heroes.
Each week our learners complete a portion of their "Slaying the Dragon Within" writer's workshop process which is leading up to them writing a personal myth about one of their own 'fatal flaws'. The concept is based on a children's book (There's No Such Thing as a Dragon by Jack Kent) and talk from Jordan Peterson. Here are the links so you can check them out:
https://youtu.be/A-BQ6wKlMZA (3:44 minute video of book)
Slaying the Dragon within Us – Jordan Peterson (60 minute video talk)
After listening to these, the Heroes wrote out reflections on their own personal 'dragons' and how they can conquer them based on the following questions. I challenge you to do the same and possibly use this and the story book video as a guide for a family discussion on slaying the 'dragons' within.
———————————
What is one dragon that we are collectively ignoring in our studio (or in our family)?
What small change can we begin today to stop it from growing or help it begin to shrink?
What is one dragon you individually have today that is impacting your life?
What are the "pancakes" that it is keeping you from enjoying?
What small change will you begin today to stop it from growing or help it begin to shrink?
What is your natural reaction when something unexpected happens?
Do you want your natural reaction to change? If so how? What steps can you take?
What self-awareness skill is most valuable:
* Ability to identify dragons;
* Ability to identify tools to use against dragons; or
* Ability to communicate to others a dragon you have identified?
At what point are dragons dangerous:
* The moment they exist;
* When they get in the way of a daily task;
* When they jeopardize a long term goal;
* Something else?
Which type of dragon has the greatest impact on society:
* Natural dragons like death and disease, or
* Social dragons like bureaucracies and tyrannies  
What are the symptoms or dwarves that are caused by your biggest dragon that distract you from facing the dragon head on?
What is the worst thing that could happen if you were to face your biggest dragon head on and grab a piece of it? What is the best thing?
Who could you ask to stand by your side as you take one step closer to the dragon? 
What tool or weapon do you need slay the dragon? Do you know how to use it?
What is Numbers Lab and why do we do it every week at Journey Academy?
The vast majority of math curricula make students spend all of their time doing calculations over and over again and tempt them to believe math is irrelevant and disconnected from everyday life. Numbers lab is an interactive math experience that builds math fluency in a fun and engaging manner. Much of the content in our Numbers Lab is taken from a website called http://Youcubed.org. Here is the introductory video and the four truths that govern our perspective on math: Numbers https://www.youcubed.org/wp-content/uploads/2018/09/1-Algebra-Mindset-Message-Video-Final.pdfnal.pdf
1. Everyone can learn and understand high level math – there is no such thing as smart and not smart people in regard to math.
2. Believe in your brain's ability to understand math – when you do this, your brain actually works differently.
2. Mistakes are a very important of your learning in math – struggle and challenge are really good for you.
4. Speed doesn't matter in math – it is much more important to think deeply, creatively, and visually.
Last night we celebrated the hard work of all our learners at a Christmas Holiday Concert! I was pretty much beaming with pride all night! So much grit, hard work, and courage went into their performances. At Journey Academy we don't value perfectly polished, adult-run productions nearly as much as we value providing opportunities for our learners to take risks, grow in leadership & new skills, and show what they are passionate about and have learned. Last night was a beautiful example of that and I'm so grateful for a community of families that supports our Heroes in that was by being a gracious audience! What a fabulous way to kick of 2021, here's to a great new year!
The Survivor Quest is off to a great start!
This session all three upper studios are doing a 6 week deep dive into survival skills. Topics covered will include food, water, shelter, fire, psychological survival, search and rescue, orienteering, avalanche shelters, first aid, and spiritual survival. They will be taking four surprise excursions in the next six weeks so details will come on those. Here is a picture of our quest map as well as some photos of the younger ones building their survival notebook and the older ones preparing for the trap building competition! Who ever said school is boring?!?
Hi families! You can click here to view, download, and print the workbook.
Writing is an important life skill for every young person. How does Journey Academy teach writing? Listen to a few Acton learners explain the system we use to help equip our learners to write well:
At Journey Academy we are always seeking to inspire our learners towards heroic behavior so we refer to all our students as 'Heroes'. We started the 2019 school year with 12 heroes and ended the year with 21 heroes. Now we are looking at an enrollment of 40 or so for the 2020 school year. It is such a privilege to empower our learners to take charge of their own education. Watch the fun video and get to know some of our heroes 😉
In January our middle and high school Heroes began daily civilizations discussions. Our focus was on modern world history so we discussed events starting with World War 1 and moving all the way through the 20th century. Each hero was given an event in history and a few moral dilemma questions surrounding that event. They were to invest 30 minutes to a hour researching the event then come to the discussion prepared to defend their position on the moral dilemma. In the beginning, I as the guide would lead the discussions but soon the Heroes took over the discussion leader role and they would evaluate one another's discussion leading skills so that they could grow in that area. I am so very proud of how hard they worked in this area. Civilizations discussions add up to badges earned, which then translate into history credits on a high school transcript. We recorded a few of the discussions so I will post those videos below. Civilizations discussions are a fabulous way to make history come alive and engage learners in the process of critical thinking and argumentation – something sorely lacking in society today!
Our school is built largely around the metaphor of the Hero's Journey, which is a framework to evaluate any great story. Here are the steps on that journey: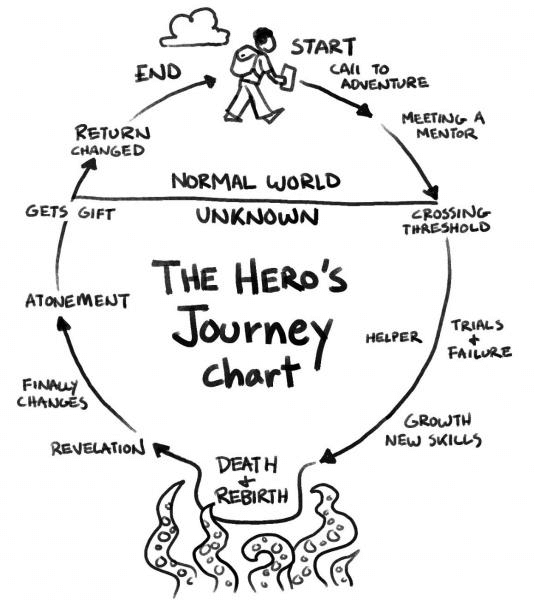 We are always encouraging our Hero's to learn to interview others to learn about their Hero's Journey and to learn to tell of their own. Watch Jackson do his first Hero's Journey interview!
Starting in middle school, apprenticeships are a vital part of the learning experience at Journey Academy. Watch this video to learn more:
I am so glad you asked, why don't we let the Heroes tell you? Watch this video to learn…
This start of this school year brought growth from a tribe of 12 heroes to a tribe of 19! Onboarding 7 new students has not been without its challenges but we welcome them as we know that failure is progress for those who desire to grow. We have struggled to meet the needs of our littlest learners while we try to understand the concept of a Sparks Studio as many other Actons refer to it. And at the same time we are empowering our eight middle and highschoolers to create a learning environment that they can all thrive in.
A couple years ago Laura Sandefer, the founder of Acton Academy, wrote a book called Courage to Grow. I read it over a year ago, months before we started the school year. Yet in this season of taking on new Heroes, I have been drawn back to the inspiring lessons found in the book when I fear we may lack the courage to grow ourselves. And yet I find myself inspired once again on this call to adventure we received from the Lord to start this school. It seems every day we see the beauty and genius of our heroes increasing and we stand in wonder at the transformation.
Each morning we start our day with a launch discussion, usually related to some aspect of social, emotional learning. These are the lessons we all need to have healthy families, friendships, and marriages and we are so grateful our kids are learning them at such a young age. Concepts include walking in the Four Agreements with one another, staying out of the Drama Triangle when conflict arises, building a level 5 tribal culture rather than settling for a level 2 or 3, and accepting feedback from peers as an act of love and respect. Countless inspiring conversations have happened around our launch circle, what an honor to watch these heroes begin to soar!
Wow, fifteen weeks under our belts!  And what a crazy ride it has been for each one of us.  Looking back over this first semester I am overcome with gratitude for so many things.  God was with our little tribe every step of the way – every victorious step and every painful step as well.  We kicked off the year with our 'Building the Tribe' learning quest where we spent time getting to know each other and building the systems that would govern us.  The Heroes did a fabulous job of creating their Rules of Engagement and Studio Contract. Much like our founding fathers did at the Constitutional Convention, we too had our own convention of sorts where we debated ideas and principles that we all valued and eventually voted on the documents that govern us.  We then moved onto a very exciting Physics Learning Quest that issued a building challenge each week to our Heroes and culminated in a trip down to Albuquerque to participate in the Balloon Festival. What better way to learn about air pressure, displacement, buoyancy, lift, drag, mass, and gravity than to watch in wonder as hundreds of balloons take off at sunrise.  Wrapping up the semester some of our Heroes took a hunting trip and came home with enough elk to last all winter! And now we rest for Christmas break to evaluate what went well and what needs improvement in our tribe of learners. With grateful hearts we close out this year and look ahead to what God has in the next!
Just look at these smiling faces, twelve amazing kids about to embark on a Hero's Journey,  These heroes are Journey Academy's first ever students. This picture was taken at our kick off BBQ, before any of us knew what we were getting into!  Shining eyes full of wonder and hope, they are the inspiration for all the blood, sweat, and tears that went into following this dream and accepting the call to adventure.  At this BBQ, we shared the vision with parents and friends, we dreamed together, and we prayed that the Holy Spirit would bless these children and our efforts to raise them up for Him.  And now the work begins!